What is a credit card?
SO what's the one thing your parents tell you not to do when you go to college? Besides getting pregnant and besides driving drunk. Yea! "DON'T GET ANY CREDIT CARDS."
A Credit card is very similar to a debit card, it's a plastic card that allows you to make purchases. BUT the major difference is that you are spending someone else's money.
People are always warning about the danger of using credit cards. I mean it seems like common sense right? Don't spend what you don't have. But it's just so tempting… You basically have free money, what's so bad about spending a little bit of it now. I mean you'll pay it back next pay check, right? Wrong. That's exactly why people with that same mentality end up in debt. Credit cards might be the easiest way to end up in debt. So, don't do it to yourself!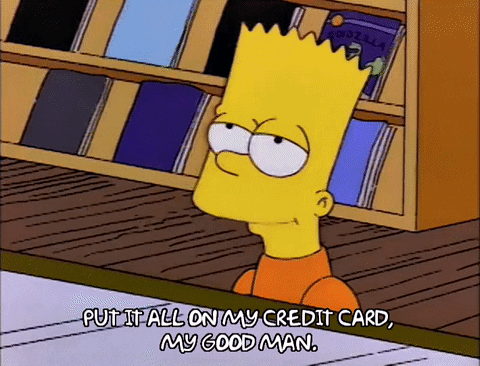 When not to use it
A purchase is a purchase is a purchase. So, if you can afford to pay it back and intend to, then putting it on your credit or debit card shouldn't matter, right? However, in some cases it's best to just not use the credit card for the purchase. Such as:
When you don't currently have enough money on your debit card to afford it
That's the golden rule. If you can't afford to buy it on your debit card (i.e. with your money) then most likely you shouldn't use the credit card to get it (i.e. someone else's money). I say this because the interest rates on credit cards are too high. It's best to just not get whatever you are planning to get and just wait until you do have it.
Even dipping in your savings would be better because you're not going to have to pay even more money to use it. For example, if you want to buy that new purse for $80. It would be smarter to take $80 out from savings because if you do, you'll only have to add an extra $80 next paycheck to compensate. BUT if you use your CC with an average interest rate of 17.30% (creditcards.com) you'll have to pay back $93.84. So you'll pay $13.84 more for using credit.
You're probably asking… so then what's the point of even getting a credit card? Valid question.
When you should use a credit card
A good reason to get a credit card is so you can build your credit now! If you're looking into Grad School after college or you know you don't want to live at home with your parents after college, chances are you may need to take out some loans. Which means you'll need good credit. When you're in college a credit card is a perfect way to get good credit and it's also a perfect way to ruin your credit. So, make sure you're getting one for the right reasons.
Now, starting off with zero credit makes it hard to even get a credit card but it's NOT IMPOSSIBLE. There are many credit cards you can get with no credit such as: Journey Student Rewards from Capital One, Discover it Student Cash Back, Capital One Quicksilver One, Open Sky Secured Credit Visa Card, etc.
Now once you actually get the credit card don't overwhelm yourself. Start slow and just use it for gas or groceries (something that is small enough to pay back easily). Pay it back slowly because those simple transactions will build your credit. The next step may be a small bill or another small fee that you're sure you can pay back timely. These simple charges will get your credit where it needs to be within a couple years.
Think ahead to when you get a car or you have to sign the lease for your apartment. You're going to need credit so start now!
Thanks for stopping by! Don't forget to comment, share, and subscribe to our Newsletter which always has the latest news, tips, and tricks you need in order to OPTIMIZE your money now!
**Disclaimer: Remember that this blog post should not be used as a resource for any professional financial advice. For any professional advice on investing you should consult a financial advisor/ consultant. Check out Money State University's Disclaimer for more information!